A fruitful Monaco Business expo for MEB
The 11th Monaco Business expo was held Tuesday 3 October at the Monte-Carlo Beach Plaza's Sea Club. As a new partner, Monaco Economic Board (MEB) seized the opportunity to sign a Memorandum of Understanding with the Métropole Nice Côte d'Azur, welcome and connect companies on a shared stand, and co-organise conferences on the Blue Economy and Monaco's economic ambitions.
A key event for the Monegasque business community the Monaco Business expo organised by Monaco Communication was inaugurated by Minister of State H.E Mr Pierre Dartout who praised the quality of the event.
As a new partner, and as it has done for the last three years, MEB took the opportunity to reinforce ties with an important regional organisation to bring Monaco and companies in the region together.
After the CCI Nice Côte d'Azur in 2020, the Italian Chamber of Commerce (Nice, Sophia Antipolis, Côte d'Azur) in 2021 and the Sophia-Antipolis Foundation in 2022, this year MEB's Chairman Michel Dotta signed a Memorandum of Understanding with Jacques Richier, Vice-President of the Métropole responsible for the Economy, Employment, Tourism, Industry and Innovation.
Initial discussions, the signing and a shared stand marked the occasion with previous partner entities present to continue collaborations initiated. Visitors were able to meet potential customers and suppliers as well as learning more about MEB activities.
Other highlights were two conferences co-organised by MEB that led to some fascinating discussions. The first was under the aegis of the Monaco Eco Club in its partnership with the Nice-Matin Group chaired by Editor-in-Chief Christian Huault on the theme 'The Blue Economy: the new growth driver', a topic explored by speakers strongly invested in their respective fields.
Olivier Wenden, Vice-President of the Prince Albert II of Monaco Foundation stressed that to protect the oceans philanthropy was crucial in addition to what states achieve, with the intervention of NGOs and wealthy individuals like Bill Gates and Jeff Bezos, but that "this is not enough and to achieve it there is no choice: we must involve companies". And he concluded that "finance is at the service of the economy and the economy must be at the service of the kind of society we want".
Pierfranck Pelacchi, Deputy Managing Director at SMEG* recalled the key role played by the sea in the Principality's energy mix thanks to the famous ocean thermal energy loop pumps which continue to be developed, the goal being that 40% of Monaco's energy needs will be met via this source. Innovation was also represented by French startup Pollustock, specialists in fighting marine pollution.
The solution proposed by its director Stéphane Asikian involves keeping waste upstream of the oceans as +80% of waste breaks up and sinks once at sea and cannot be reached. It was a presentation that demonstrated how sustainability ambitions can be profitable. As if in response to Olivier Wenden's call to arms, the last speaker, Nicolas Perrier, CSR Director at Caisse d'Epargne Côte d'Azur, believes the "private finance sector should be a major player in this mobilisation, as it is essential to channel part of private savings to tackling sustainability issues".
That afternoon, MEB was again involved in another conference with MEB CEO Guillaume Rose in the chair on a theme important to the Principality, 'Stability of Monaco's economy and its ambitions', a topic dealt with through a digital prism.
In the introduction, Stéphan Bruno, Director of the Government's Business Development Agency reminded the audience of pillars behind Monaco's success such as the thriving entrepreneurial spirit (business launches up +6% 2022/23) supported locally by creation of the MonacoBoost incubator, and innovation mainly driven by the Extended Monaco digital transition project and launch of startups incubator MonacoTech.
For Françoise Milatos, Deputy Managing Director of Monaco Digital, the digital revolution is a "great opportunity for Monaco" but stressed that "security has always been a key asset and is in Monaco's DNA" and that the Principality has had to put in place equivalent security tools in this field. Fabrice Verdier and Eric Fabretti from software publishers Infotel discussed efforts made to attract digital talent in what is a very competitive market.
The issue of Sovereignty was raised several times in a world where borders can seem porous. That's why the Principality has its own Monaco Cloud, described by its Development Director Stéphane Caillet as "the development base of Extended Monaco to guarantee security, performance, stability and sustainability of Government projects while also being available to private companies".
None of this would be possible without reliable energy. Pierfranck Pelacchi, who also spoke at this conference, explained how SMEG was performing well in terms of stability and security of supply. One of its stated ambitions is to "guarantee 100% green supply thanks to the production of renewable electricity in France equivalent to Monaco's consumption within five years".
Guillaume Rose concluded: "The Monaco Business expo is a fantastic platform for exchanges, an ideal event for businesses in the Principality to benefit from our networks and continue to develop with new strategic partners".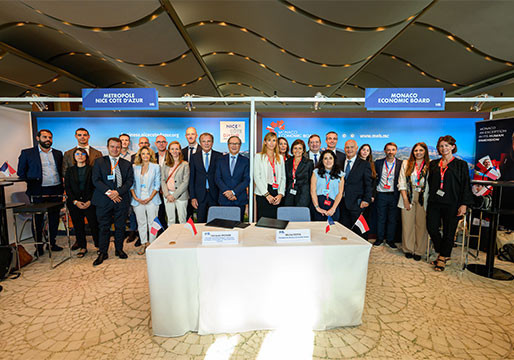 The MEB and Métropole Nice Côte d'Azur teams gathered on the shared stand © Charly Gallo - Monaco Communication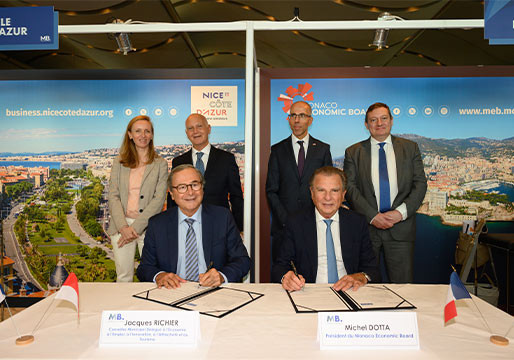 Signing of the memorandum of understanding by Michel DOTTA and Jacques RICHIER ©Charly Gallo - Monaco Communication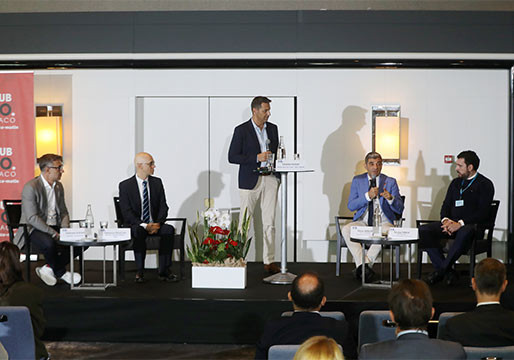 To open the show, Club Eco Monaco was dedicated to the blue economy ©Jf Ottonello - Groupe Nice-Matin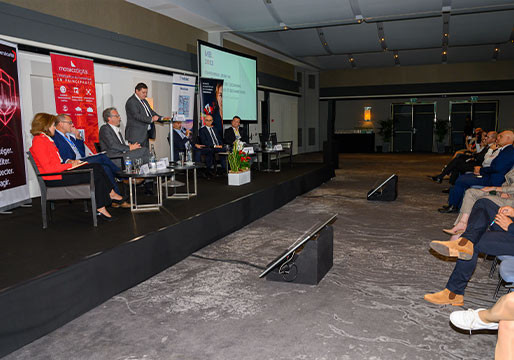 Round table on Monaco's economic stability and ambitions Charly Gallo - Monaco Communication