ECONOMIC AND FINANCIAL UPHEAVALS DECIPHERED FOR MEB MEMBERS
Ludovic Subran, Chief Economist at Allianz, once again shed instructive fascinating light on the global geopolitical situation and its economic and financial consequences, on Wednesday 7 July at the Novotel Monte-Carlo.


"I'm warning you; it won't be a free for all! " In his inimitable style, Ludovic Subran started his talk to an audience of 100+ business leaders with a touch of humour and big hint of pessimism. "We're a bit like the cicadas and in the autumn will find ourselves out of pocket because there won't be any savings left and inflation will be just as high".


Juggling figures with geopolitical data, Ludovic Subran unravelled the situation to deliver some invaluable insights at this talk that was attended by Jean Castellini, Minister of Finance & Economy, Frédéric Genta, Country Chief Officer for the Digital Transition & Attractiveness, and Balthazar Seydoux, President of the National Council's Finance and Economy Commission.


In his opinion, the war in Ukraine and its consequences for energy prices and supply problems due to the Covid crisis, particularly in China, are already causing a recession in certain sectors like trade. A recession that should deepen by the end of year, without being of great magnitude. This coupled with the end of the "whatever it costs" approach, a certain survival of the fittest will emerge, in other words a rising number of bankruptcies. As for wage negotiations, given inflation which is expected to continue into 2023, the economist thinks these are necessary in the majority of cases.


Expanding on this theme, Ludovic Subran envisages major changes emerging in a changing world: global trade increasingly "balkanised" by geopolitical tensions; with a dollar that could be challenged by China and its allies of the moment; inequalities exacerbated, both within countries and between developed or undeveloped nations; central banks and governments looking for solutions with inflation that is not attributable to an overheating economy; and a changing climate that is ever more evident but against which many sectors have yet to make the investment required for "greening" their business.


To meet these challenges, the Chief Economist recommends much greater collaboration to avoid "a situation where everyone would be a loser".


Always delighted to go off on relevant academic digressions, Ludovic Subran responded to questions with enthusiasm and an eloquence much appreciated by the Monaco entrepreneurs present. He also had advice and comments on future prospects, that were not always negative.


To conclude an instructive evening, hosted in partnership with Monaco Asset Management and Monaco Junior Chamber of Commerce, attendees then gathered on the rooftop of the hotel with its fabulous view of Monaco for a cocktail. An opportunity to continue the discussions with Ludovic Subran, put the world to rights and network.


About Ludovic Subran

Ludovic Subran is Chief Economist at Allianz. He is also Chief Economist of Allianz Trade (new name for Euler Hermes). Before joining Allianz, Ludovic worked for the World Bank, the United Nations World Food Programme and French Ministry of Finance.


A French national, Ludovic is a Member of the Council of Economic Advisors to the Prime Minister. Ludovic is a Young Global Leader of the World Economic Forum, a Millenium Fellow of the Atlantic Council and a David Rockefeller Fellow of the Trilateral Commission. He has been ranked by Richtopia among the Top 100 most influential economists, and by the Institut Choiseul and Le Figaro as one of the Top 100 French leaders of tomorrow.


Ludovic also sits on several boards of directors and advisory boards. Ludovic is an Adjunct Professor of Economics at HEC Business School and Sciences Po Paris. He has co-authored three books: Hunger and Markets (2006), Désordre dans les Monnaies (2015), and Je comprends enfin l'Économie (2020). A graduate of the École Nationale de la Statistique et de l'Administration Économique and Sciences Po Paris, Ludovic is fluent in seven languages.
➢ Press contact: Benoît Ulrich / Delphine Quilichini - presse@meb.mc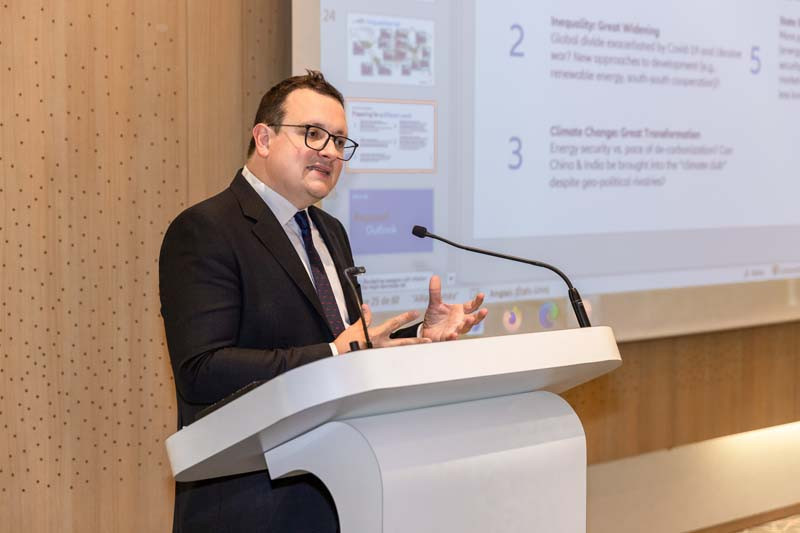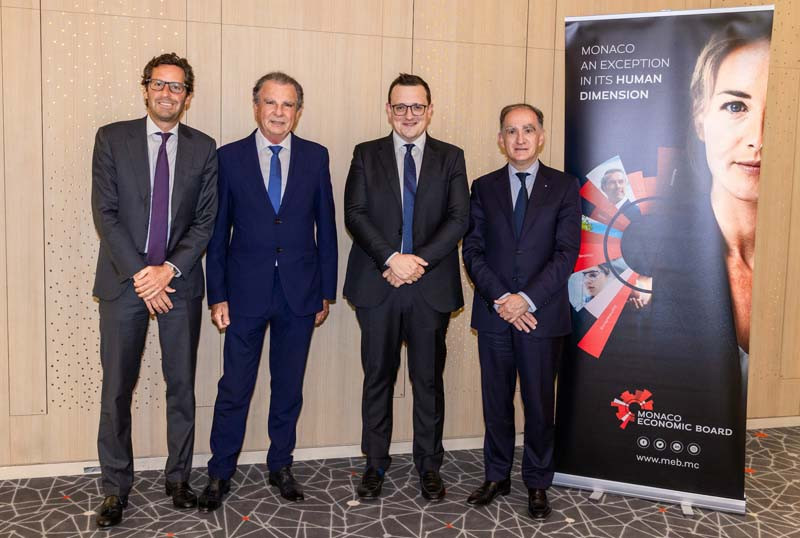 l-r - Balthazar Seydoux, President of the National Council's Finance and Economy Commission; Michel Dotta, MEB Chairman, Ludovic Subran, Chief Economist at Allianz; Jean Castellini, Minister Finance and Economy. Photos (credits MEB / Carte Blanche)