FIRST STEPS ON NORTH AMERICAN SOIL

Monaco Economic Board has just completed its first Trade Mission to Canada, 18-24 September, with the first stop being in Montréal.


For the first time since its launch in 1999, Monaco Economic Board (MEB) made the American dream come true by leading a delegation on a Trade Mission to Canada. Postponed due to Covid, the trip targeted seven Monaco companies representing a range of sectors (tech, consultancy, finance, education, trade & law) the purpose being to develop relations between the two countries, as MEB Executive Director General Guillaume Rose explained: "We want to support Monaco companies in their expansion in Canada; to promote synergies and opportunities between the business communities; and also, why not, attract Canadian investment for companies in the Principality".

On this exploratory mission, Monaco set out to conquer an economic giant. Canada, with its population of 38 million covers 10 million square kilometres and is surfing along on growth of 4.6% in 2021 and 3.8% in 2022 (COFACE estimate).

To penetrate this key North American market, MEB naturally started its mission in the French speaking Québec province and its capital Montréal, a metropolis representing $3,765 billion of foreign investment in 2021. Montréal is booming and has become the leader in Canada in digital creativity and a world leader as an artificial intelligence hub (Google, Microsoft and Méta have R&D centres in Montréal).

MEB chose the France-Canada Chamber of Commerce & Industry (CCI Française au Canada) to introduce them to the country's business networks as, according to its Executive Director Julien Tougeron, "it is the leading French-Canadian community outside France". Officially, there are 80,000 French people in Montréal, unofficially 200,000. The CCI delegated its top expert, Stéphane Pipon, to guide the Monegasques.


Networking operation

On 19 September, the delegation met key players in the Québec business community (Montréal International, Montréal Metropolitan Chamber of Commerce, SOPER) at a gathering hosted by leading Canadian law firm, Fasken, attended by Monaco's Ambassador Maguy Maccario-Doyle and Honorary Consul in Montréal Diane Vachon.

After a presentation on the Québec ecosystem - preceded by a minute's silence in homage to Queen Elizabeth II, the funeral having been declared a national day of mourning in Canada - MEB signed two new cooperation agreements with France-Canada CCI and SOPER (Société de Promotion de l'Economie de Rimouski), on a territory that is home to more than a dozen blue economy research centres.

As usual there were back-to-back B2B meetings, arranged between entrepreneurs of both countries, and networking events.

These meetings have already born fruit. For example, Thomas Brezzo, cofounder of Monaco law firm Giaccardi & Brest secured appointments with three of the largest Montréal-based law firms (Fasken, Osler and Dentons, 130 offices in 80 countries). "It has been a very rewarding mission as it enabled me to meet entrepreneurs who are keen to set up an office in Monaco," says Thomas Brezzo.

Meanwhile, La Distillerie de Monaco founder Philip Culazzo made contact with several companies and wine merchants involved in importing and distributing alcohol and spirits. "The quality of our products suits top restaurants, including Michelin star establishments," explains the man behind Monaco's first and only distillery.


Innovation
The delegation also visited CENTECH, a world class incubator for deep tech and med tech companies with high growth potential. Québec is number one in Canada for R&D investment with 30 incubators and accelerators. Many big company R&D centres and laboratories are working on artificial intelligence, software, aerospace, life sciences, cybersecurity, video games, etc. "It is fascinating to see successful players who understand what works well, confirming it is possible to find solutions by thinking outside the box," says Guillaume Rose.

MEB's mission continued in Toronto to learn about the Ontario business environment.


ENCADRE

Monaco/Canada diplomatic relations

The Principality of Monaco and Canada have officially maintained diplomatic relations since 2008. An Embassy in Washington DC and three Honorary Consuls represent Monaco: Montréal (Québec), Toronto (Ontario) and Vancouver (British Columbia).

Maguy Maccario Doyle is Monaco's Ambassador for the United States and Canada.

Diane Vachon is Honorary Consul in Montréal.


ENCADRE

Two new MEB partners

The French in Canada Chamber of Commerce & Industry (CCI Française au Canada) has been in Montréal since 1886. It has 300+ companies and over 2,000 associate members, representing a business network of 6,600 potential contacts!

CCI Française au Canada is part of the CCI France International, a network of 125 French CCIs in 95 countries, with 33,000 companies and 1,200 employees. In each country, the CCI is an association under local law which is self-financing through its activities and helps promote member companies.

Founded in 1999, SOPER - Société de Promotion de l'Economie de Rimouski - has a mandate to support regional development and support businesses from Canada and elsewhere to grow their entrepreneurial projects.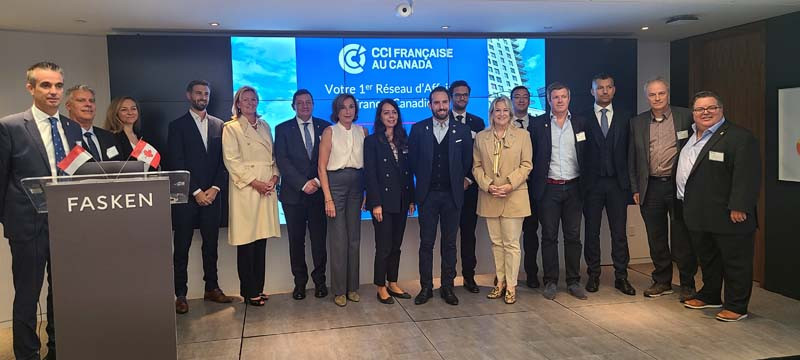 The members of the delegation received by the French Chamber of Commerce in Canada and in the presence of H.E. Mrs Maguy Maccario Doyle