Info and networking a winning combo for 43rd Members Rendezvous!
Wednesday 18 January at Fairmont Monte-Carlo's brand-new Grand Salon, the Monaco Economic Board (MEB) hosted over 300 decision-makers and entrepreneurs at its 43rd Members Rendezvous. The first half of the new year for MEB sees a new website and announcement of government digital services that were presented before the cocktail.
After a word of welcome from Chairman Michel Dotta, MEB's Executive Director General Guillaume Rose and his deputy Justin Highman revealed MEB's diverse programme of events.
To help managers in their decision-making, MEB has talks arranged on key topics, including expanding the competences of Monaco's Customs Office in partnership with WES and Monaco Logistics on 2 February; new real estate technologies with Extended Monaco on 9 March, macroeconomics with Coface Chief Economist Jean-Christophe Caffet on 14 March; economic predictions with forecaster Christophe Barraud on 16 May; and a presentation on Monaco en Chiffres 2023 by the head of IMSEE (statistics office), Alexandre Bubbio, on 22 June.
Two other meetings are scheduled to learn more about opportunities in Sweden on 17 March and Morocco on 18 April. Keeping the international focus, on 6 March MEB hosts an Austrian delegation, while Trade Missions are taking place to Djibouti 6-10 February and Miami 8-12 May. Later in the year, Amsterdam is already confirmed for early October.
As part of its Invest Monaco mission, MEB will participate in operations to promote Monaco's economy in targeted locations such as Geneva and Brussels. Finally, the association's next AGM is on 30 March, followed by the 44th Members Rendezvous at the Yacht Club de Monaco, all actions organised with MEB's many public and private partners, at home and abroad.
Last but not least, there are new additions to the programme including business conferences in English and small-group meetings with foreign ambassadors when they present their credentials to the Prince's Palace.
Another big announcement was that of a revamped, more comprehensive and secure website with more powerful tools, but at the same address: www.meb.mc.
This Members Rendezvous was also an opportunity to introduce new digital tools developed by Monaco Government for companies: Stephan Bruno, Director of the Business Development Agency, presented the totally dematerialized new Répertoire du Commerce et de l'Industrie (Trade and Industry Directory) and Julien Dejanovic, Director of Digital Services, spoke on the electronic signature, in particular the new teleservice which makes it possible to apply to the Business Development Agency for a stamp online.
After the speeches, it was over to the networking cocktail so appreciated by MEB members which combines a social occasion with business encounters, meetings and making new contacts.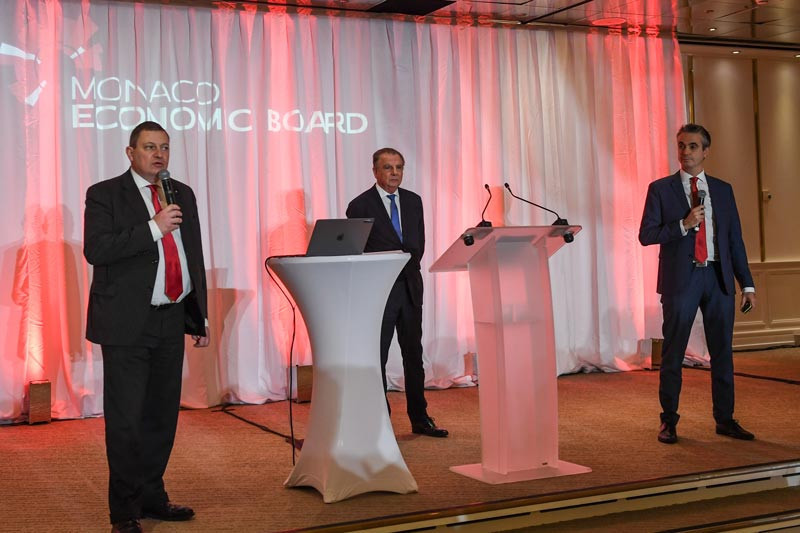 Guillaume Rose & Justin Highman present MEB's agenda with Chairman Michel Dotta.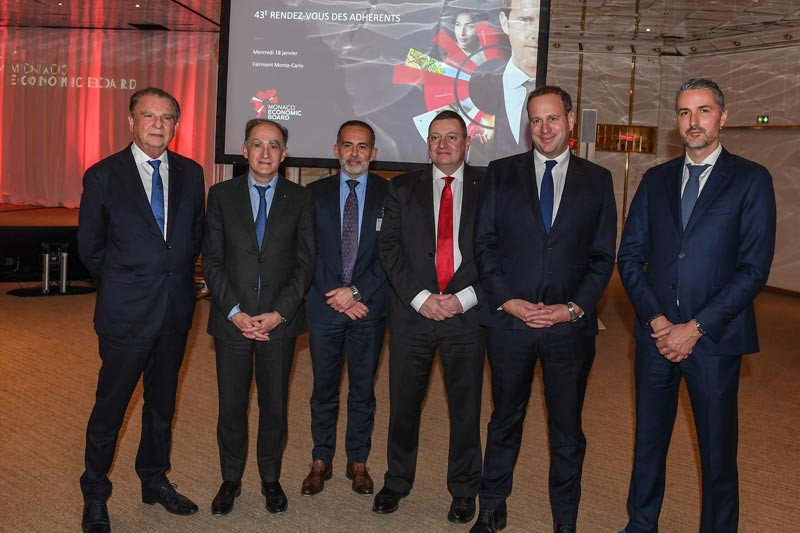 l-r Michel Dotta, MEB Chairman; Jean Castellini, Minister of Finance & Economy; Stephan Bruno, Director Business Development Agency; Guillaume Rose, MEB Executive Director General; Frédéric Genta, Country Chief Officer of Attractiveness and the Digital Transition; Julien Dejanovic, Director Digital Services.