MEB DELEGATION DELVES DEEPER INTO HEART OF CANADIAN PROSPERITY

The second part of its Trade Mission to Canada saw Monaco Economic Board's delegation travel to the English speaking area to explore Toronto's business ecosystem.

After a first stop in Montréal, MEB's Trade Mission to Canada headed to Toronto, another gateway to Canadian and more broadly North American markets. Capital of Ontario province, Toronto is at the country's English-speaking banking, finance and trading heart.

To understand the region's ecosystem, the Monaco delegation met organisations involved in facilitating business startups and investment, the Toronto Global and Business France agencies, and the Ontario Council for International Cooperation, as well as key players like the world's largest law firm Dentons and the bank Desjardins.

As in Montréal, Monaco companies attended a number of networking events organised by MEB. The presence of the Monaco's Consul in Toronto proved a big asset as someone able to knock on the right doors and identify which sectors to prioritise. "I have a much better understanding of the Canadian business environment and been able to network thanks to this trip," says Tarek Barbouche, co-founder of Thoody Consulting, a Monaco company that develops software solutions and mobile DATA apps.

"I have met potential partners, discovered new prospects and forged links with professional associations," adds Pierre-Alexandre Rousselot, CEO-founder of KeeSystem that specialises in financial technologies (WealthTech) based in Monaco, Switzerland and Luxemburg. A sentiment shared by Hilde Haneuse-Heye, Chairman of Blue Wave Software who met companies wanting to tackle the European market through her publishing company. Blue Wave also plans to export its product range developed for Nice Airport to Canadian airports.

Toronto being Canada's largest tech hub and number three in North America, MEB made a strategic decision to target the innovation ecosystem. The Monegasque delegation visited the MaRS Discovery District in the city centre, the largest innovation hub in North America with 140,000m2 of premises, 120 global tech companies (Facebook, PayPal, etc.), startups, non-profit organisations, research institutes (CCRM and Vector Institute), investment companies and an accelerator for combating climate change.

"We have a lot to learn from these North American metropolises which put innovation and tech at the heart of their economy. In Monaco, we have tech nuggets like those that have been incubated at MonacoTech. We have brought some on this mission and hope to bring more for other trips or when we take part in trade shows like CES in Las Vegas or Collision and Elevate in Toronto," says MEB Deputy Director General Justin Highman.

The trip also bore fruit for the International University of Monaco. Nadine Vallejos, IUM's International Relations Coordinator, met a dozen universities and business schools located in Montréal, Ottawa, Toronto and Waterloo with a view to establishing bilateral student exchange partnerships. "Several are set to visit our campus very soon. We have also made contacts with the Quebec Institute of Tourism and Hospitality thanks to Ambassador Maguy Maccario-Doyle and Honorary Consul in Montréal Diane Vachon, which is also interested in collaborations with the Lycée Technique et Hôtelier de Monaco and the Princess Grace Hospital".

Another mission accomplished for MEB opening up the North American market for the first time.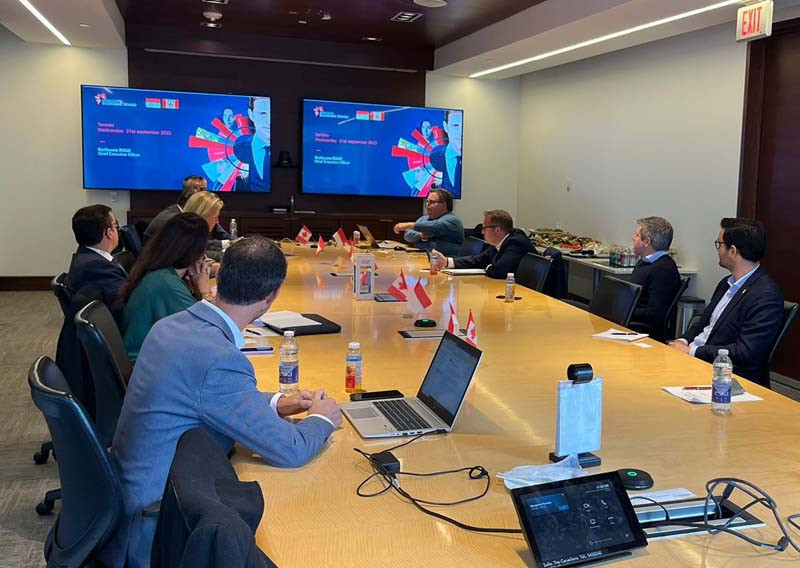 Bilateral presentations followed by networking lunch and BtoB sessions