MEETING WITH AN ESTONIAN DELEGATION FOCUSED ON INNOVATION
Thursday 20th October, a meeting organised by BCS Mngt in collaboration with MEB and attended by Estonia's Ambassador in France, H. E. Mr Lembit Uibo, was held at the Novotel Monte Carlo. A 12-strong delegation of companies specialised in innovation in the construction, real estate and renewable energy sectors met around 20 business leaders from the Principality.
After a series of short presentations by those attending, guests had plenty of opportunity to find out more at the productive networking cocktail that followed.
European Union and Eurozone member and independent since 1991, Estonia took full advantage of the post-Soviet slump to begin again from scratch to in effect become a "startup" nation. The country tackled the digital revolution before the rest of the world, notably with its e-administration.
A reality MEB first witnessed in 2011 during a Trade Mission accompanying an official visit by HSH Prince Albert II. MEB first hosted Estonia during the Monatech conference in 2018. This second delegation confirmed the interest our two forward-looking countries have in working together.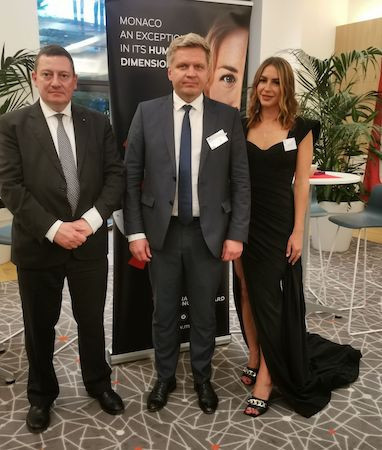 l-r: Guillaume Rose, MEB Executive Director General; H.E. Mr Lembit Uibo, Estonia Ambassador in France; Susanna Juulik, CEO of BCS Mngt.