MONACO ECONOMIC BOARD OUT IN FORCE AT MONACO BUSINESS
Partner of the Monaco Business fair, Monaco Economic Board was out in force for the 10th edition of this show gathering entrepreneurs from the Principality and region. On the menu: an Eco Club event in partnership with the Nice-Matin Group, signing of an agreement with the Sophia Antipolis Foundation and a debate with expert forecaster Christophe Barraud.
Opened by Minister of State Pierre Dartout, the 10th Monaco Business fair was held at the Méridien Hotel on 4 October. Monaco Economic Board was again a partner of this key event for companies in the Principality and its region. An Eco Club event in partnership with the Nice-Matin Group was jointly organised on the theme 'Monaco's attractiveness for the Côte d'Azur and beyond'.
Frédéric Genta, Country Chief Officer for Attractiveness and the Digital Transition spoke on the country's action plan matrix to up its appeal that's in the process of being finalised. A key aim is to improve mobility. In the context of current crises (Covid, energy, the war in Ukraine), Monaco, which has built its prosperity on its ability to attract residents, employees and investors, intends to "go further" and "be prepared to do battle" to be even more attractive against competitors like Singapore and Dubai. "We must establish a fine balance between encouraging carpooling and working from home, without hampering VAT collection by the State, provide an even better welcome to new residents, and develop the country's brand," said Frédéric Genta, who sees Western values and the digital transition as key assets: "The 20-million-euro Blue Fund has enabled 400 businesses to make the transformation. The digital transition is an opportunity for sustainable growth without the need for more land".
Loïc Chollet-Vergé, Director of the Monaco branch of Caisse d'Epargne Côte d'Azur and Fabrice Volpi, CFO at Monaco Digital, recalled the advantages of a small territory. "Networks are easily formed and decisions taken quickly. There is no need to schedule meetings well in advance, even with the administration (employment, taxes, etc.)," they explained to an audience of entrepreneurs.
Another advantage: "Actions taken in Monaco in terms of the energy transition contribute to the country's appeal," said Pierfranck Pelacchi, Deputy Managing Director at Société Monégasque de l'Electricité et du Gaz (SMEG) recalling that "Monaco's energy model is based on published tariffs and recent events show this is more reassuring". The energy transition policy is indeed attracting new businesses, such as Chloé Zaied, Managing Director and founder of Hynova, first shipyard to have designed a hydrogen-powered boat. The company presented its prototype for the first time in Monaco, "Capital of Advanced Yachting and the energy transition," and wants Monaco to be "an anchorage point for a pilot project" to have a hydrogen refuelling station.
Monaco Business was also an ideal opportunity for MEB to get closer to the Sophia Antipolis Foundation, a leading technopole in Europe with 2,500 companies employing 40,000 employees focused on innovation-based sectors (health and biotech, yachting and bluetech, cybersecurity, smart vehicles and mobility, etc.).
MEB Chairman Michel Dotta and Sophia Antipolis Foundation President Jean-Pierre Mascarelli signed a memorandum of understanding between the two organisations. An agreement in line with those signed at previous editions of Monaco Business with the CCI Nice Côte d'Azur and Italian Chamber of Commerce Nice Sophia Antipolis-Côte d'Azur, as part of a strategy to ramp up exchanges on a regional level. A shared stand welcomed visitors to find out more about how business interacts between the two territories and the opportunities.
Early afternoon, Christophe Barraud took to the stage for his talk. Ranked numerous times by Bloomberg as the world's best forecaster on American, Chinese and Eurozone statistics, the Chief Economist & Strategist at Market Securities led the debate after his talk on "Macroeconomic forecasts at the dawn of 2023".
Gloomy forecasts with a marked slowdown are due in particular to China's zero-covid policy which is likely to be maintained until at least the second quarter of 2023 he said: "Early September, 35% of China's GDP was suffering from some form of health restrictions" with a negative impact on corporate profits, air traffic and international shipping.
"China remains the world's tech breadbasket, accounting for 20% of all electronics. This is creating major slowdowns in the supply of electronic and automotive products". However, should China be "one of the rare regions of economic growth in 2023" that will have a major impact on the Eurozone causing a semi-conductors crisis. The latter will enter recession in Q4, contracting by 1% next year according to the economist, with Germany particularly exposed to China and increased energy prices. The embargo on Russian oil will not help matters. "We are on the cusp of a scenario that could see voluntary reductions in energy consumption or rationing," he says. A ray of light should come from USA which "although it is impacted by a fall in financial markets, we hope to see a drop in key rates and inflation within 12 months there".
At the end of a packed day of meetings and events, MEB Executive Director General Guillaume Rose concluded: "In participating in another Monaco Business fair, MEB has strived to do what it does best: inform, promote, connect and stimulate exchanges".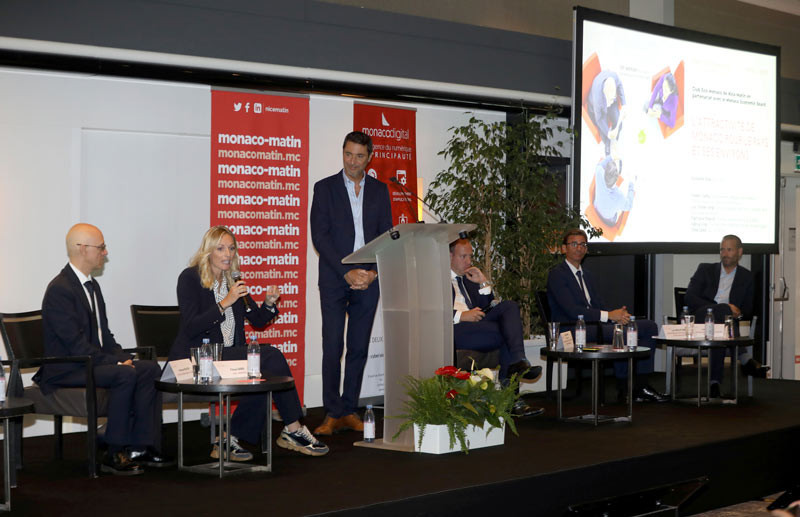 Club Eco de Monaco. (© Groupe Nice-Matin)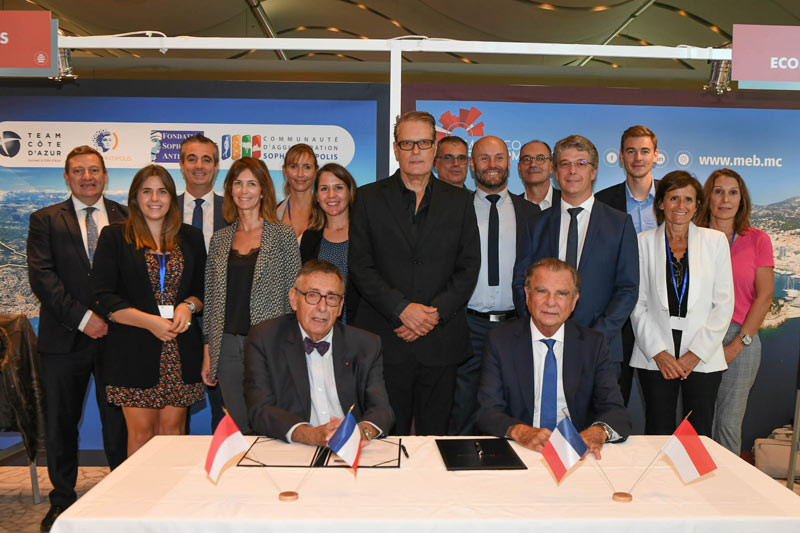 MEB Chairman Michel Dotta and Sophia Antipolis Foundation President Jean-Pierre Mascarelli signed a memorandum of understanding (© André Faure / Monaco Business)
Forecaster Christophe Barraud, Chief Economist & Strategist at Market Securities (© André Faure / Monaco Business)