New powers for Monaco Customs Office explained to MEB members
A conference organised by Monaco Economic Board (MEB) at the Novotel Monte-Carlo on 2 February aimed to shed light on opportunities generated by new powers bestowed on the Monaco Customs Office. Mission accomplished thanks to contributions made by two MEB member companies in the logistics sector, WES and Monaco Logistique.
After a word of welcome by MEB Executive Director General Guillaume Rose, Roger Combe, Regional Director at the Nice Customs Office took to the stage to describe what this increase in powers means, explaining "Monaco is an important business trading hub which did not have an appropriate customs structure to support import/export companies". A reminder that due to the customs convention signed in 1963, Monaco is part of the French customs territory and therefore that of the European Union, of which it is not a member.
Since October 2022, the Monaco Customs Office, which had been a branch dependent on the office at Nice airport where almost all customs procedures and checks on goods were carried out, has been given new powers and is now the main customs office for Monaco with the same status as that in Nice. The Nice regional office is now the only customs office in France with two main offices.
Muriel Deya, Head of the Monaco Office explains: "We are now able to give you access not only to all our remote services but also remote customs clearance procedures which have been entrusted to Monaco-based logistics professionals".
Another benefit is the possibility of a company's storage space being approved by the Monaco Office which avoids having to transit goods through specific customs clearance zones. What's more, as the Monaco Office knows local businesses well they can reduce checks, avoiding certain random controls that have become unnecessary. This closer relationship also enables the Monaco Office to better advise and guide professionals. Lastly, the new status means companies can rely on the Monaco Office for all their customs procedures when goods are leaving France, for example from a port or airport, without having to go through local customs authorities. The same principle at European level should become a reality in a few years.
The conference, attended by over a hundred professionals operating in Monaco, was also an opportunity to present the many changes coming down the line vis-à-vis customs clearance, tools available and regulations that are constantly evolving. Josiane Guerreiro, Acting Manager of the Business Action Centre and responsible for the Business Advisory Unit of the Nice Customs Office, gave a very comprehensive update.
As customs are not the only link in a supply chain, two companies involved in logistics in the Principality, both MEB members, highlighted the revolution that has been taking place over the last ten years and welcomed the new powers, citing as an example: "Goods arriving at the port of Marseille and destined for Paris can now be cleared by the Monaco Office without going there and if checks are required they are carried out on site but under the Monaco Office's supervision which makes things so much easier!" Alexandre Trueba, Managing Director at WES agreed: "Thanks to the Monaco Customs Office's new powers, we have established a bonded warehouse in the Principality for luxury vehicles which is about to open. The process started a few months ago and would have taken infinitely longer and been more complicated going through the Nice office".
In short, with this new structure Monaco as a trading hub open to the world has acquired a tool that will play a major role in streamlining processes and developing international trade.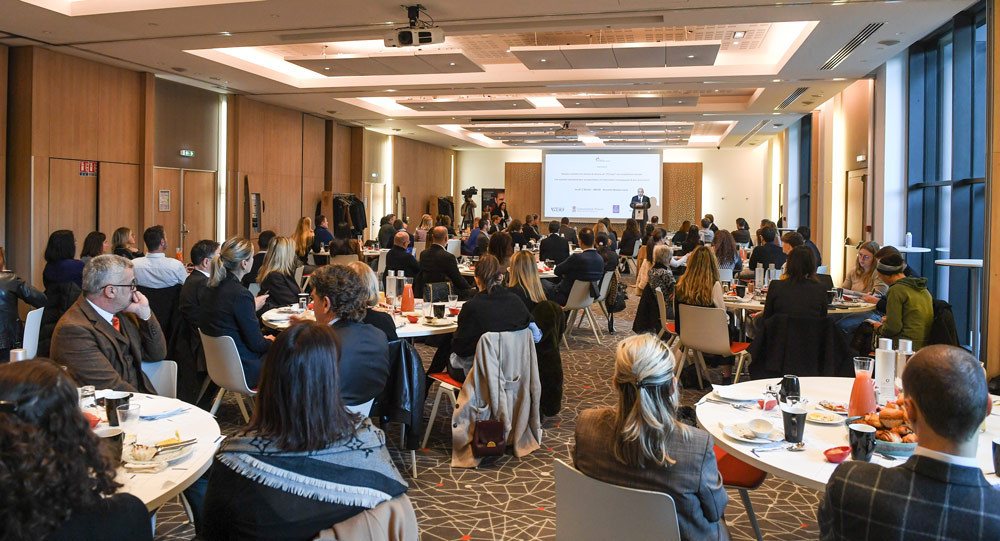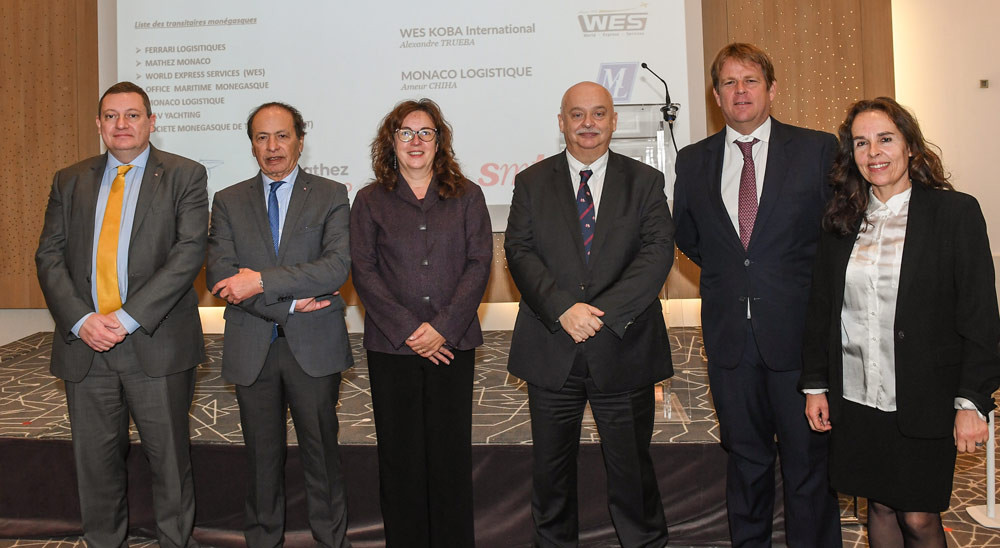 l-r, Guillaume Rose, MEB Executive Director General; Ameur Chiha, Vice-President Monaco Logistique; Josiane Guerreiro, Manager of the Business Advice Unit at Nice Customs Office; Roger Combe, Regional Director of Nice Customs Office; Alexandre Trueba, Managing Director WES; Muriel Deya, Manager Monaco Customs Office