Reception for Thai delegation leads to promising new contacts
Thirty-five business leaders from Thailand, all members of the Nation-Building Institute think tank were welcomed on Monday 22 February to meet Monaco Economic Board (MEB) members. Promising discussions ensued with a country that has great potential.
"This event could be the door that opens a new era in relations between Thailand and Monaco, and all of you are the keys to that door." This is how Kriengsak Chareonwongsak, Chairman of the Nation-Building Institute, a think tank set up to create links between Thai institutions, companies and civil society, began his metaphor-rich presentation on his country and its opportunities for Monaco. The visit was part of a trip to generate ideas, encourage international interactions and provide new sources of inspiration based on good practices noted in the countries visited. It was Monaco's dynamic economy that grabbed the attention of a delegation keen to understand what drives this success and to meet those behind it.
The morning started with a presentation by MEB Executive Director General Guillaume Rose on the Principality's business advantages and what sets it apart, followed by Benoite Rousseau de Sevelinges for the Princess Grace Hospital (CHPG), Sasha Viviani on behalf of the Attractiveness and Digital Transition Delegation, Thomas Gelinet and Harold de Marin for AS Monaco Football Club and Chris Clavel for Baccana Digital Consulting. All testified to Monaco's excellence and extended an open invitation to the visitors to forge new bridges between the two countries.
The invitation was followed by a networking lunch in a less formal ambiance with around 20 targeted business people from Monaco for whom it was an opportunity to make contact with key players driving a rapidly developing country. Promising sectors for collaboration include health / wellbeing, real estate, ITC and tourism. The delegation went on to visit several of Monte-Carlo SBM's emblematic establishments, Thailand being a country targeted by SBM in its strategy to develop the Asian market.
The visit was a success thanks to Siraveth Sukhanetr, Honorary Consul of Monaco in Thailand, and Régis Bergonzi, Honorary Consul of Thailand in Monaco. Relations with the Land of Smiles had in fact been initiated in June 2021, following which MEB made the most of the Thai Ambassador to Monaco and France's visit to organise a business conference. Industry sectors to build on had already been identified. As a result of these visits an MEB operation could be on the cards in November with partners on the ground in Thailand.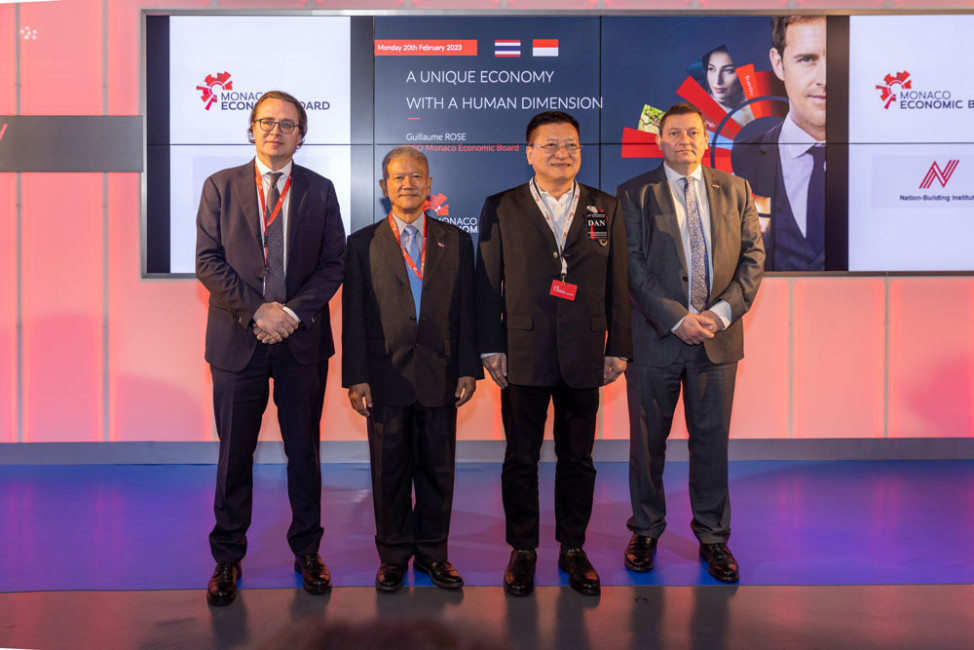 l-r Régis Bergonzi, Thailand's Honorary Consul in Monaco; Siraveth Sukhanetr, Monaco's Honorary Consul in Thailand; Kriengsak Chareonwongsak, Chairman of the Nation-Building Institute; Guillaume Rose, MEB CEO. (Credits MEB / Carte Blanche)
(Credits MEB / Carte Blanche)